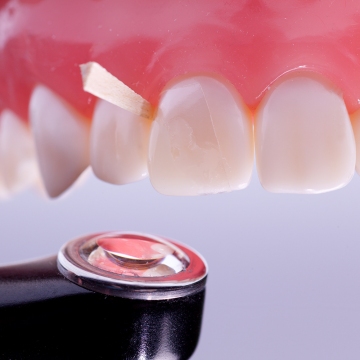 Special price
Barman's Anatomical Wedges Large, 200 pcs.
Main settings:
Progressively thicker from pointed end makes the wedge fit most spaces. The length and shape make it easy to control and insert between teeth.
Dentaco was established in 1988 by Dr. Rolf Barman. The company specializes in oral care products for consumers and the dental profession. more
Description
Barman's Anatomical Wedges Large
BARMAN'S anatomical Wedges since 1965. Many brands of wedges on the market are offered in many sizes. To choose the right size is time consuming and waste. To save time and costs, Dr. Rolf Barman developed wedges with progressive width and thickness along the wedge. This allows for only one or two sizes to fit most cases.
Progressively thicker from pointed end makes the wedge fit most spaces.
No need for more than two sizes for most cases. (Time and cost saving).
Curved sides to conform to the anatomy of the tooth will support the correct shape of the filling and maximum pressure at the base.
Made of birch which makes the wedge soft and pliable.
The length and shape make it easy to control and insert between teeth.
Expand slightly when moistened ensuring maximum pressure.
Does not colour.
Delivery within Chisinau
Address delivery by courier

Free from: 1000 MDL
Delivery times in Chisinau: 1-2 days.

Express Delivery Service

Terms of delivery: 2-3 days.

Pickup - Free

Do not wait for delivery? You can pick up your own product from our office!
Any convenient way to pay
Cash courier

Cash payment to the courier

Cash on delivery

Payment in cash when you receive Express Service at the warehouse

Payment via bank

Payment to Moldindconbank's current account

European quality certificates for everything
Quality certificates for all products

All products meet the European requirements. For all products we provide on request certificates of quality.
Ask the question now
Mon-Fri 8:30 - 18:00, Sat 8:30 - 14:00
Be aware of discounts, novelties of the catalog, the latest news.
"ClasicMed" is an online store of dental and dental materials, equipment and tools.
Our company is the official dealer of the leading manufacturers of medical products. Thanks to this, the store has affordable prices and quality assurance for all products.
"ClasicMed" - professional delivery of dental instruments, materials for dental technicians and beauty salons, surgical instruments and supplies for general medicine.
The company organizes practical courses and seminars. Leading experts of these events are leading experts in the field of dentistry, medicine and dental work.
You can choose the goods you need from our wide range, quickly and comfortably place your order, choose a convenient method of delivery and payment. For its customers, the store develops unique loyalty programs: special offers, discounts and promotions, gifts.
All products sold are certified, have Declaration of Conformity, and are also provided with a brand guarantee of manufacturing companies.
We value our customers and try to offer them the best conditions for cooperation!